Women's Kaftan Abaya Jilbab Islamic Muslim Long Sleeve Maxi Dress Aro Lora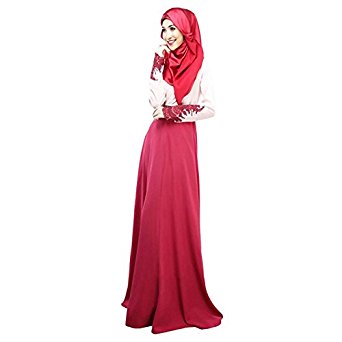 Buy This Item

amazon.com
Description
Tags/No.------Bust----------Length-------Shoulder breadth----Sleeve length M---------94cm/37.00"---140cm/55.12"------36cm/14.17"--------59cm/23.22" L---------98cm/38.58"---142cm/55.90"------38cm/14.96"--------60cm/23.62"
User reviews
When I first opened the package, I noticed immediately that the color was different. The cream area of the dress is much more of a peach color, and the red is much more of a maroon. Also, the fabric looks sort of double georgette in the picture, but it's not at all. The material still feels decent quality, but not as flowy as pictured. And beware of the sizing, the XXL is something more like a US size 8. Still like the outfit overall, but it wasn't what I was expecting.
You know how it looks form fitting in the picture? Also how the color is suppose to be red and ivory/white? Well, don't get your hopes up. Instead, it's too large and the color is more of a maroon and peachy pink. Furthermore, it doesn't make sense why there would be a side and visibly FRONT zipper rather than a BACK zipper. See my upload for reference.
Waaaaay too small. The fabric has no stretch. It's very unforgiving. I bought the largest size and I had to return it.