TrendyFashionMall Women's Printed Kaftans Abayas Multiple Colors & Designs Trendyfashionmall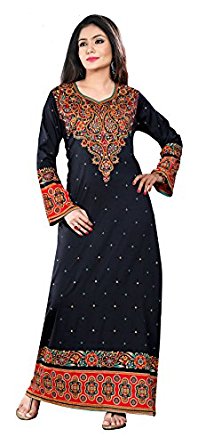 Description
Material: Polyster Crepe (Softest Satin Feel To The Material) - No Embroidery - Only Print. Available in Sizes - 36-Extra Small to 54-6XL (Note: add 4 Inch to your Bust Size that is your size. Example - bust size 40" , Select 44-XL) - Please read the TrendyfashionMall Chart to find the right size...
User reviews
Extremely comfy, relaxed and great for pairing up with a belt. I found the size I ordered a bit loose (I went according to the seller's provided sizing chart) and I could have gone a size down for a more fitted bust. I am 5'8" and the length was perfect, hitting just above the wrist and down to my feet. I haven't washed it yet so I'm unsure what impact that will have on the printed design.February 2016 UpdateBoth dresses have been washed and worn several times and there has not been any fading, wear or tear, no stretching or shrinking. The material is light and airy which makes it great to wear at home or out and they have been wrinkle free after dryer use.June 2017 UpdateJust 2 weeks ago, I got slight tears in the fabric around the underarms. No doubt this is a result of it being more fitted in the shoulder area on me. Both dresses still look great with the black one having experienced fading on the white flowers on the body of the dress. These have lasted me almost 2 years with regular wear at home and out, and I will definitely repurchase.
I like the dress, however just keep this in mind that this dress is not cotton its Polyester Crepe (Softest Satin Feel To The Material) - No Embroidery - Only Print. "Which the seller discloses in the information area". I do feel that this item should not be more than $19.95. Recommended but only if it's under $20. Otherwise you will have very high expectations. One more thing: the colors in picture are not accurate compared to product received. Thanks
I'm tall so it doesn't quite go to my ankles but it fits me perfect everywhere. I purchased for a Bollywood party.