Muslim Islamic Galabeya Isdal Kaftan Gilbab Prayers Isdal (manar) teba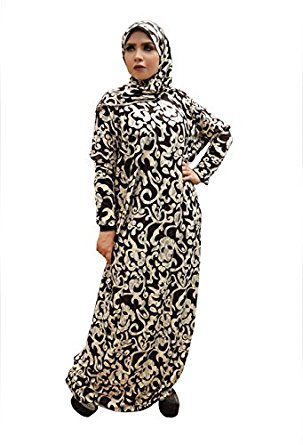 Description
-ITEM DESCRIPTION : Muslim Islamic Galabeya Isdal Kaftan Gilbab Prayers Izdal Abaya Attire Dress (ISDAL AND OVER HEAD IS not ONE PIECE TOGETHER) -This is one gorgeous piece! -CALLIGRAPHY MAY BE CHANGED ACCORDING TO OUR STOCK AVAILABILITY -A great find for the Egyptian treasure collector...
User reviews
The material is soft and stretchy. So it's comfortable to put on. The headscarf isn't attached to the dress as I had expected. The only drawback is that the opening for the head is a little bit tight. I'm 5'3" and the length is perfect.. long enough to cover my toes but not so long that I trip over it all the time. Overall, it's still a great purchase and I would buy more if there were other color/pattern options.
Too expensive for an item that is not well done. Both arms are different size one fitted me and the other arm not
Very happy with this garment! My husband and I are taking a daytrip to the Sheikh Zayed Mosque in Abu Dhabi, and this is the perfect item to wad up in my backpack and pull out to cover my other clothing (3/4 length pants & short sleeve shirt). The material does not wrinkle and is somewhat stretchy so no problem at all with the fit. I am an 18 in American sizes with large upper arms. Good long length too. Hemmed it an inch to keep the dress from dragging the floor. Covers ankles, wrists, and chest well. Not tight. The hijab was not attached, so sewed it on as well with a snap to make it super simple to throw on once we get to the mosque. Material is slightly heavy, so I would not want to wear it all day. Although I think it may breath somewhat. Overall, I am extremely satisfied with this purchase, and fast shipping as well (two days). Thank you!