LG GizmoGadget™ – Review & Rating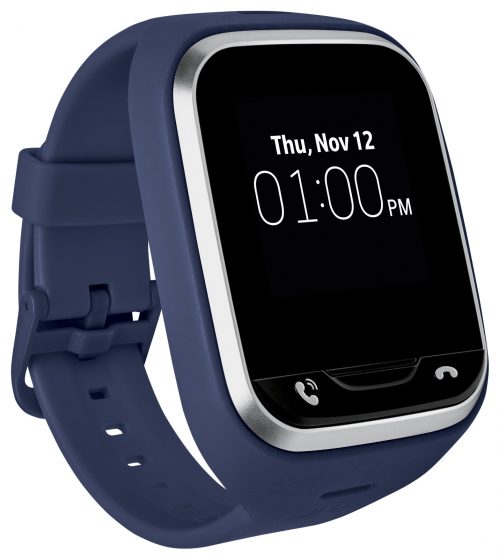 Affordable
Trackable, GPS-enabled
Easy to use
If you are looking for a way to stay connected with your kids, then maybe this is the best gift ever for your kid.
The LG GizmoGadget which is priced at $149.99 plus $5 monthly from Verizon Wireless with a 2-year contract, is a great little gadget that can keep you on top of things. This little smartwatch will keep you in touch with your child who can send you pre-made text messages or s/he can even record a voice message.
It comes with a bright 1.3–inch touchscreen. This wearable LG GizmoGadget allows the child to call up to 10 contacts and receive calls from them. Send short messages to GizmoGadget and locate it on a map from your phone. It's even waterproof*
There are no games on GizmoGadget, which means children won't get distracted while wearing the watch in class. Reading skills are required though. Younger kids, who cannot read yet, can use the LG GizmoPal® 2, which doesn't have a screen.
Features
 Make and receive calls from up to 10 contacts. A dedicated button and 1.3–inch touchscreen make it easy to use. Send brief text messages to GizmoGadget; a notification sound and animation is played when the message arrives.
GizmoGadget fits comfortably around the wrist. You can set different touch–screen themes and change out the bands for different color options (sold separately).
From the GizmoHub™ app on your smartphone, you can locate your child using GPS. You can even set boundaries and get notified if the your child crosses them.

 You can set some fitness goals. The gadget can count steps and jump–rope jumps.

Oversee GizmoGadget from your phone: This is the most important feature in my opinion to keep you on top of things. You can manage GizmoGadget's settings using the GizmoHub app which is available in your App store.  The app is compatible with smartphones using Android™ 5.0 or higher and iOS 9.0 or higher.The maximum number of contacts you can program is 10 contacts.
You can customize the preset messages that can be sent from the GizmoGadget. You can also change the volume, theme and fun sounds, set a goal for daily activity.
* Tested to be IPX7 compliant. Do not operate under water; if all covers are tightly closed, device is protected against water ingress to a maximum of 1 meter of water for up to 30 minutes.
Very Good
The LG GizmoGadget is an excellent smartwatch for kids who need to stay in touch with their parents.
PROS
Affordable
Trackable, GPS-enabled
Easy to use
CONS
Battery Life (up to 2 hours only of usage)
Limited Colors (Red or Navy)
Can't send free-form text messages
Must be a Verizon subscriber